---
The XCN-2050 Display
The all NEW XCN-2050 display....., new look.... new Android Operating system and awesome features like Next Swath (End of Row turning)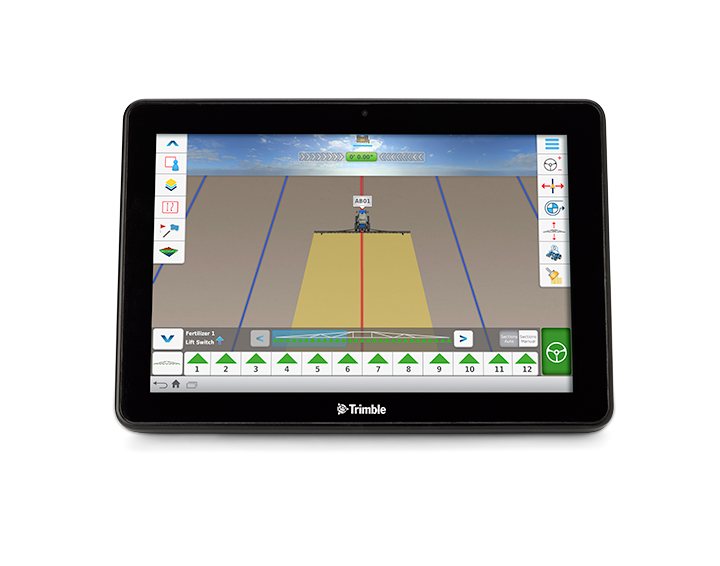 and True Guide (Passive Implement Steering). Connects to all existing Trimble steering solutions including EzSteer, EzPilot and CNH Steer ready tractors.
Accuracy options RangePoint RTX (FREE 12 months), CentrePoint RTX and RTK.
Come see the exciting new XCN-2050 Display.
Cameras for FM750, FM1000, Intelliview IV and Pro700 Displays
Do you have a FM750, FM1000, Pro700, or Intelliview IV display?
Get the best out of your Display by connecting a Camera or 2 for this coming seeding operations.
Examples of Camera applications;
Inside Air Seeder Tanks (All our cameras do have infrared). Placed on Air Seeder Bars to check for blockages and rear vision whilst transporting.
End of chaser bin and mother bin augers to enable safe and accurate unloading from the tractor seat as well as rear vision when transporting. If possible place camera 60-90cm from top of auger to enable more accurate vision.

Inside semi tippers to monitor loading of grain and unloading when tipping.
Rear of semi tippers when backing onto augers, air-seeder carts etc.
Multi spreaders belt, spinners, inside hopper.
Planters and Harvesters including, carrot, potato, olive and grape to name a few.
Back of vehicles when constantly hitching up to trailers and implements.
Tele-handler boom
Upgrade the GPS receiver on your Auto-Steering System:
Is your AutoSteering GPS system running on Autonomous, or paying $1800.00 for signal each year for VBS or
HP?
Is your Steering system dropping out?!
Then consider Upgrading to the latest NH372 or CaseIH372 GPS receiver which will near double the number of satellites
and comes with RangePoint RTX signal free for the first 12 months, and an accuracy of 15cm P2P.
The CaseIH/NH 372 receiver will replace your existing GPS receiver and will connect to most AutoSteering systems;
(includes Glonass and GPS)
Give us a call to see whether you can take advantage of latest CaseIH/NH 372 GPS receiver.
---
RangePoint RTX

FREE 12 month redemption on all new FM750, FM1000, XCN2050, CaseIH372 and NH372 systems.
Ronco Motors have hundreds of satisfied customers using the NEW correction service, have you tried it?
Call us to find how you can benefit from the RangePoint RTX Corrections services on within your farming operation.
For further information & service support, please contact:
Ty Mickan
Email: This email address is being protected from spambots. You need JavaScript enabled to view it.
Phone: 0429 989 876